Standard Bench-Top Universal Testing Systems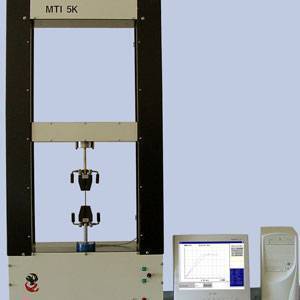 MTI-1K: 1,000 pounds / 5 kN
MTI-2K: 2,000 pounds / 10 kN
MTI-5K: 5,000 pounds / 25 kN
MTI-10K: 10,000 pounds / 50 kN
All MTI Bench-Top Systems are supplied with our powerful Intel Core i5 Pentium based Data Acquisition/Analysis/Control System to provide an integrated automated materials testing system. Force and displacement and strain measurements are automatic. MTI AD-24 automatic 24-bit Force and Strain Signal Processors are supplied with each system. The two AD-24's provide data accuracy and measurement resolution approaching one part in one hundred thousand in a fully automatic mode of operation. The load frame crosshead displacement measurement is also automatic, with resolution of 0.00005 inches for all tests.
---
Load Frame Features and Furnished
Accessories:
Tension and compression testing can be performed in the Test Bay
Two precision rolled ball screws with preloaded multiple circuit ball nuts provide smooth, precise crosshead motion under the full operating load range
Chrome steel guide rods and linear bearings eliminate lateral surface translation and assure accurate crosshead alignment throughout the full range of travel.
Heavy fan-fold bellows protect the lead screws and linear travel bearings from contamination and damage.
The loading crosshead surfaces are ground to precise flatness and parallel standards.
Each crosshead surface is fabricated with a mounting bolt circle that provides a means of attaching the system load cell or universal joints or any of a large assortment of testing fixtures to any of the four surfaces.
A universal joint and linkage for attaching to tensile wedge grips or similar test fixtures is furnished.
A universal tension/compression pancake load cell of the frame capacity is provided with system calibration through the MTI AD-24 automatic 24-bit load cell signal conditioner. (A lesser force cell will be substituted upon request.)
A high resolution optical encoder coupled to the frame rotating components furnishes crosshead displacement measurements for test programs, and also provides the control system with closed loop feedback to assure constant crosshead travel rate under all load conditions.
---
Test Frame Options:
The MTI-10K is offered in both a floor model or a bench-top configuration
A system with extended crosshead travel requirements can be accommodated upon request.
The test bay width can be increased as required.
Specifications: MTI-10K Floor Model
Frame Dimensions: 83 inches high, 46 inches wide, 26 inches base depth.
Testing Region Size: 28 inches wide, 60 inches vertical, 8 inches crosshead surface depth.
Crosshead Travel: 54 inches end-to-end. Actual travel is a function of installed testing fixtures.
---
Specifications: All Bench-Top Models
Frame Dimensions: 68 inches high, 34 inches wide, 16 inches deep.
Testing Region Size: 22.5 inches wide, 48 inches vertical, 7 inches crosshead surface depth.
Crosshead Travel: 40 inches end-to-end. Actual travel is a function of installed testing fixtures.
---
Common Specifications:
Testing Region: Below the Moving Crosshead, in Tension or Compression.
Testing Speeds: 0.01 to 10 inches per minute standard. Speed range options of 0.02 to 20, or 0.1 to 50 inches per minute are available.
Displacement Resolution: 0.00005 inches at standard test speed range.
Control: MTI C-DAS Intel Core i5 Pentium for computer control of testing. Manual control for test setup.
Weight: Approximately 600 pounds for bench-top systems, 1,000 pounds for 10K floor model.
Utility Requirement: 115 volt, single phase 15 amp AC circuit for load frame and control system. A Dedicated surge protected circuit is suggested.
---
The MTI Mini-Frame
Our newest integrated testing system is the MTI Mini-Frame. This system is offered with all of the control and data analysis capability of our standard systems, but the loading frame is a compact unit which easily fits on any laboratory desk top. The 1,000 and 2,000 pounds force systems are only 18 inches wide and 31 inches tall, but offer full universal testing capabilities and support the full MTI testing programs library. The system can be provided with extended test-bay height if required, and force capacity can be increased to 5,000 pounds at a slight increase in load frame width.
This complete system is priced at $13,500 including the load frame, control and data-acquisition computer system, full testing program library, load cell, tensile universal joint, extensometer input channel and automatic displacement measurement.